Climate-smart deeptech startup Ecozen announced today that it has raised INR 54 crore
of additional funding as the first tranche of a planned INR 200 crore Series C round. The new funding
round was led by Dare Ventures, the venture capital arm of Coromandel International, with participation
from existing investors Caspian and Hivos-Triodos Fonds (managed by Triodos Investment Management)
through equity. Northern Arc, UC Inclusive Credit, Maanaveeya, and Samunnati also participated with debt
funding. Early investors in Ecozen include IFA and Omnivore.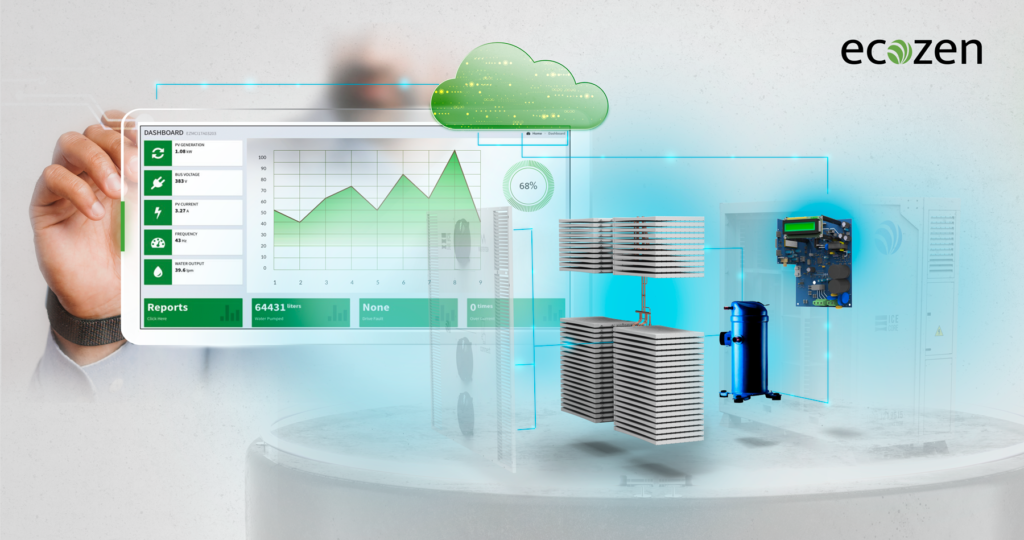 Ecozen develops climate-smart deeptech solutions and core technology stacks to deliver a sustainable
future, including motor controls, IoT, and energy storage. Applying these technology stacks to the
agricultural sector, Ecozen has revolutionized cold chains (Ecofrost) and the irrigation industry (Ecotron),
substantially improving the income of 100,000+ farmers and enabling the generation of over 1Bn units of
clean energy(kWh). Headquartered in Pune, Ecozen was founded on-campus by three IIT Kharagpur
alumni, Devendra Gupta, Prateek Singhal & Vivek Pandey.
Ecofrost is the world's leading solar-powered decentralized cold storage solution, which employs
innovative thermal energy storage tech, and has over 450 units deployed. Meanwhile, Ecotron is India's leading solar pumping solution adopted by over 70,000 farmers which leverages embedded IoT, predictive
analytics and advanced motor controls to help improve irrigation efficiency and agricultural profitability.
Backed by strong demand for its cold chain and irrigation products, Ecozen crossed INR 100 crore in
revenue in FY2021-22 and was EBITDA positive. Ecozen has also executed successful pilots abroad and
has been able to build strong demand in African and Southeast Asian countries. It is on track to more
than double its sales in FY2022-23 and become highly profitable. Growth will come from scaling up
existing businesses as well as expanding beyond the Indian market.
Ecozen sees a significant opportunity in applying its technology stacks and introducing climate-smart
solutions for sectors beyond agriculture, notably electric vehicles. The company expects the market size
for its innovative technology stacks in India will grow to USD 25 billion by 2025. In the coming years,
Ecozen will launch multiple products which build on its deeptech expertise in thermal energy storage,
motor controls, IoT, and analytics.

Commenting on this latest fundraise, Devendra Gupta, CEO and Co-Founder of Ecozen, said, "We are
thrilled to partner with Dare Ventures and other new and existing investors, as we accelerate our growth
and bring climate-smart deeptech solutions to new sectors of the economy. The new funding will be used
for expanding our product range, manufacturing capacity and boosting exports. Expanding beyond India
and beyond agriculture will enable us to expand our market potential multifold and grow exponentially
while ensuring sustainability."
Commenting on their investment, Sameer Goel, Director, Dare Ventures Ltd. and Managing Director,
Coromandel International Limited, said: "This investment marks the entry of Dare Ventures and
Coromandel into the agritech investment space. We are focused on businesses with positive and long
term on the ground impact and Ecozen through its innovative deep tech products is well aligned with our
vision. With a keen focus on sustainability, we believe their core technology stack will significantly impact
sectors beyond agriculture as well. Going forward, we aspire to build a strong portfolio of such highly
transformational startups working at different levels of the agricultural value chain and thus creating a
remarkable impact on the farmers' livelihoods."
Commenting on their investment, B V Narasimham, Investment Director, Caspian Impact Investment
Adviser Private Limited, said, "Caspian and Hivos-Triodos have been partners to Ecozen for over seven
years through our equity and debt initiatives. We are very happy to be part of the journey thus far where
the Company is successfully implementing technology initiatives to solve the problems of farmers in
India as well as in other countries through innovative approaches which are environmentally friendly. We
are pleased to partner with Dare Ventures and other fellow investors of Ecozen in this exciting phase of
the Company's growth."
---
About Dare Ventures:
Dare Ventures Limited is a corporate venture capital arm of Coromandel International Limited with a
focus on leading investments in early to growth stage start-up companies engaged in providing
technology led solutions for complex and long-term problems in the agriculture and allied sectors.
Coromandel International Limited, part of Murugappa Group, is amongst India's pioneers and leading Agri
solutions provider, offering diverse products and services covering crop nutrition, crop protection, retail,
and other allied advisory services to millions of farmers across the country.
About Coromandel:
Coromandel International Limited is amongst India's pioneers and leading Agri solutions provider, offering
diverse products and services across the farming value chain. It operates in two major segments:
Nutrient and other allied businesses and Crop Protection. These include Fertiliser, Crop Protection, Bio
Products, Specialty Nutrients and Organic businesses. The Company is 2nd largest manufacturer and
marketer of Phosphatic fertiliser in India. The Company's Crop Protection products are marketed in India
as well as in international geographies, offering wide range of technical and formulation products. The
Specialty Nutrients business of the Company focuses on water soluble fertiliser and secondary &
micronutrients segments. The Company is leading marketer of Organic fertiliser in India. The Bio
Products business of the company focusses on plant extractions for various applications. It also
operates a network of around 750 rural retail outlets across Andhra Pradesh, Telangana and Karnataka.
Through these Retail outlets, the Company offers farming services including crop advisory, soil testing
and farm mechanization to around 3 million farmers. The Company has a strong R&D and Regulatory
setup, supporting the businesses in process development and new product introduction. The Company
has 17 manufacturing facilities, producing wide range of Nutrient and Crop Protection products, which are
marketed through an extensive network of dealers and its own retail centers.

The Company clocked a turnover of Rs.19,255 Crores during FY21-22. Its efforts towards environment
have been well recognized by International organizations like UNDP and has also been voted as one of the
ten greenest companies in India by TERI. Coromandel is a part of the INR 417 Billion (41,713 Crores) of
the Murugappa Group.
About Caspian:
Caspian, a pioneering impact investing firm with a track record of supporting breakthrough companies
and entrepreneurs across a range of high-impact sectors is the promoter of Caspian Equity & Caspian
Debt. Caspian has supported the creation and growth of a completely new category of financial
institutions in India that include Microfinance Institutions, Affordable Housing Finance Companies, and
Affordable School Finance Companies. Caspian Equity has set up three impact funds/initiatives so far –
Bellwether Microfinance Fund, India Financial Inclusion Fund, and Caspian SME Impact Fund IV and has
managed over USD 160 Mn Assets Under Management.

About Hivos-Triodos Fund:
Established in 1994, Hivos-Triodos Fund is a joint initiative of Triodos Bank and Hivos and one of the first
global movers in financial inclusion investments. The combination of public and private funding from
Hivos and Triodos Bank respectively remains a great example of an effective and successful blended
finance initiative. Today, Hivos-Triodos Fund invests in scalable enterprises in emerging markets to
catalyse a sustainable, inclusive and green economy.
Hivos-Triodos Fund is managed by Triodos Investment Management (Triodos IM). Triodos IM has built
up in-depth knowledge throughout our 25 years of impact investing in sectors such as Energy & Climate,
Inclusive Finance and Sustainable Food & Agriculture. Triodos IM also invests in listed companies that
materially contribute to the transition toward a sustainable society. Assets under management as per end
of 2021: EUR 6.4 billion. Triodos IM is a globally active impact investor and a wholly owned subsidiary of
Triodos Bank NV.